GTGL Snippets: The Igloos at 230 Fifth Rooftop Bar
I ticked one more thing off my things to do in New York City during the winter bucket list: sip cocktails in one of the igloos at the 230 Fifth Rooftop Bar! I don't really know what year the bar started setting these seasonal igloos up, but it felt like I had been yearning to go for a very long time.
Rooftop shenanigans are a big thing in the Big Apple, and many outdoor decks close after Thanksgiving until spring, but not 230 Fifth. Thanks to this dig (and the other rooftop bars like it in the city), libations with a birds-eye view do not halt when the cold weather starts to creep in.
An English friend of mine flew in to celebrate a milestone birthday this past December. He said there's no better way to spend it than have a full day of cocktails in his favorite city in the world. So, my fellow suburb dwellers and I boarded the train to the city at 10-something a.m. to meet him for lunch in Bryant Park Grille. We ate and laughed heartily, and popped a champagne bottle, before making our way down Fifth Avenue to the corner of 27th street.
230 Fifth's Google business listing says the bar opens at 2 p.m., but when we got there, the guard and a sign said 4. If you're planning to visit, take note of that. Good thing we didn't wander off too far (just crossed the street to peruse the Museum of Sex store and had a round of drinks at a nearby Mexican restaurant) as we noticed that a line has formed by the entrance of 230 Fifth.
We were glad to find that the line moved quickly and that it was only to keep the coming in orderly. I should mention that we went on a Monday, so I presume there were fewer people than if it were a weekend.
The rooftop is only partially set up with igloos - 14 transparent, zippered-entry PVC bubble tents - that can withstand wind and rain. Each igloo has a portable heater and can accommodate 12 guests.
Stays in the igloos are not timed. There are no minimum number of people, and no entrance fee or purchase necessary (though, please, do buy yourself a drink - whether alcoholic or not - or a snack) to get into the igloos.
First come, first served, and no hogging! By all means, welcome others if you have seats to spare. And do ask around if you're the one in need of seats. If luck wouldn't have you score an igloo quickly, there's enough seating on the deck. Feel free to keep yourself warm with one of the thick red robes while you wait.
But wait a second. I haven't talked about the stunning skyline. Sadly, my height (or the lack thereof) combined with the holiday season crowd made it difficult for me to take photos of surrounding views. However, I must say, I was perfectly satisfied to have come home with the Empire State Building as a backdrop.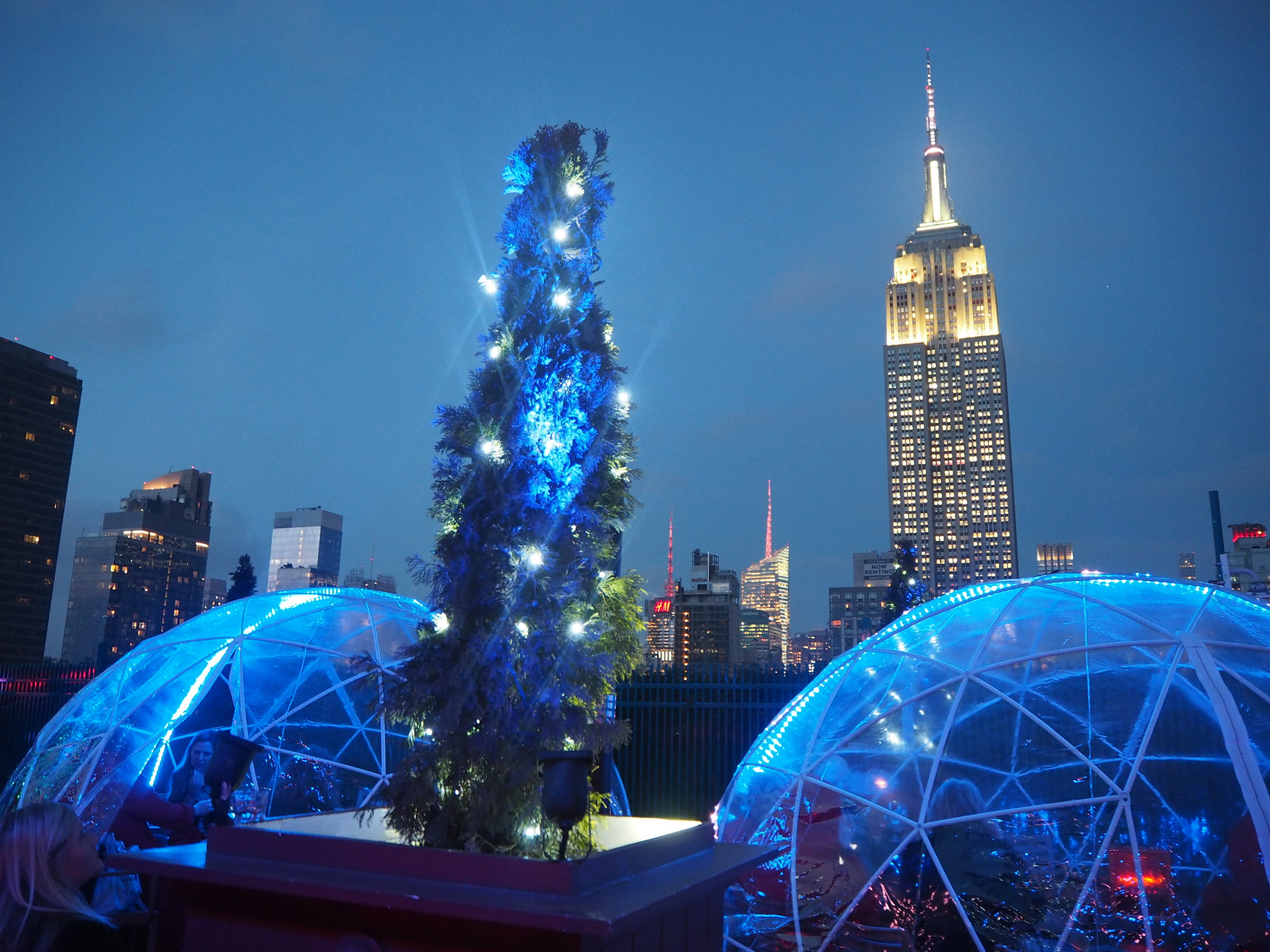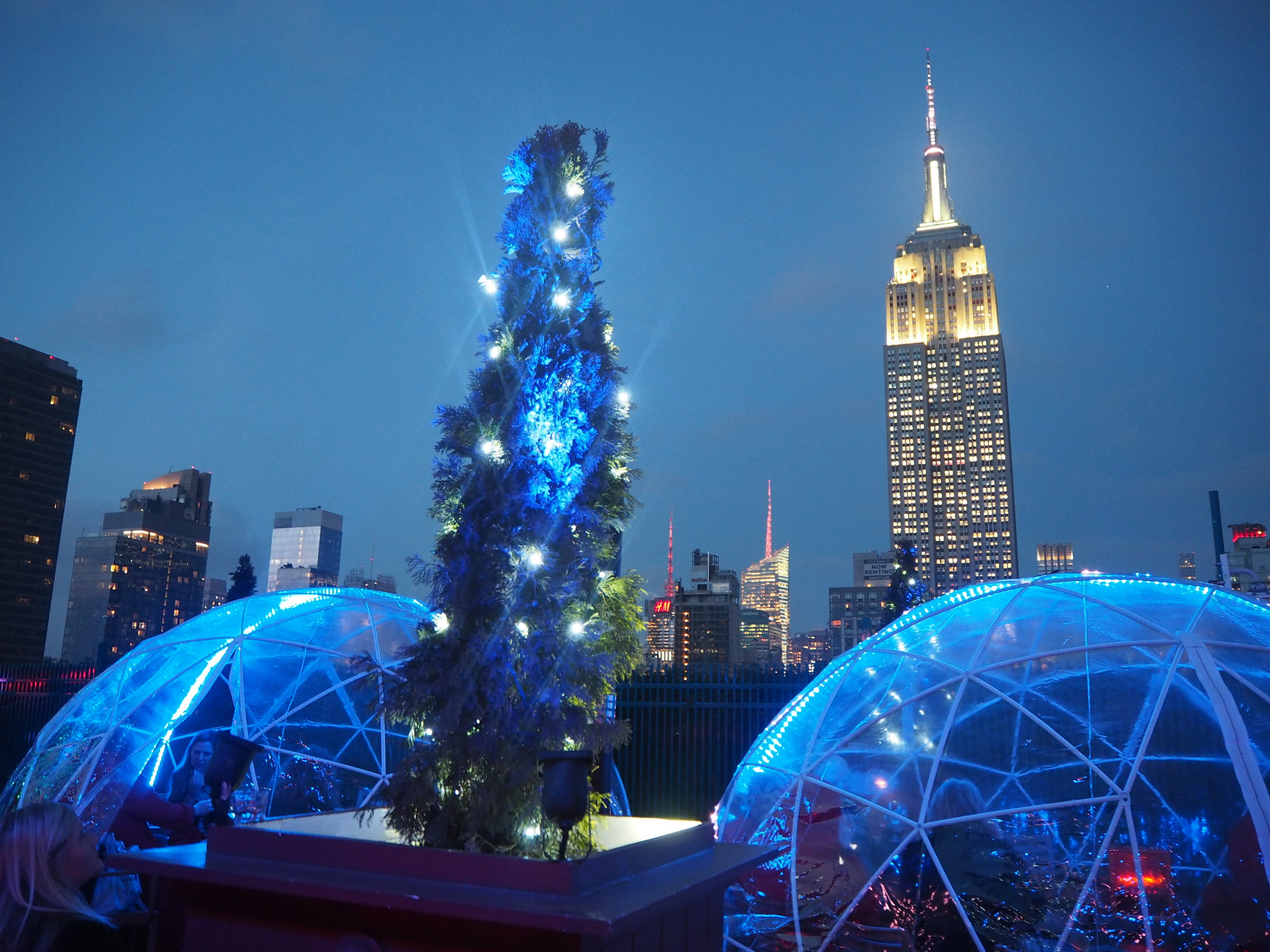 There are hot spiked cocktails, too, and I did try them all. 😉 Cavorting in the city from morning until past midnight was lovely. If there's one thing to complain about, it would be the playing of Christmas songs every so often. It wasn't the music that was bothersome, but the neon strip lights within the igloos that danced to the songs. I might be just sensitive to light and may have possibly just been too liquored up, but I thought they were migraine-inducing.
But anyway, it's past the holiday season, so you may be spared. Though, I wonder if they do the light-flickering with other tunes, too. 🤔
You must be 21 and over to visit the igloos at 230 Fifth Rooftop Bar on Mondays to Fridays, but they do welcome children for brunch on weekends. Though they are marketed as a winter season offering, they're actually available early November until late April. So, if you have plans to come to New York between now and early spring, you will have the chance to have a drink in one of the igloos.
There's nothing like checking an item off your bucket list. This may not be something grand, but I'm glad I finally got to check these igloos out - and on a friend's special day at that. The cocktails were great; the view, stunning; the holiday air was festive; and the company made the experience unforgettably beautiful.
Carol is one of the founders of get there | get lost. She is a New Jersey-based digital marketing executive, and a digital nomad wannabe. She writes mostly about getaways with her family, and is a strong advocate of the "experience over things" mantra. Follow her everyday adventures @fcbsantiago.
Carol
Born and raised in Manila, Philippines and briefly lived in California before moving to the east coast of the USA. I'm a digital marketing executive currently based in New Jersey and a digital nomad wannabe. I write mostly about family travel.